The Most Effective Way to Keep Track Of All Your Business Software
When running a business, it is critical to keep track of all the software that assists you in carrying out daily business activities, especially in today's digital world where businesses are experiencing an increase in online-related activities.


Because almost every task in a business is run through different software, having a documented strategy that helps you manage, track, and keep a record of all your software's password, username, and renewal date is critical.


One of the most effective ways to manage and track this software is to keep a document that lists all of the business software you use, as well as the username, password, renewal date, and monthly subscription fee.


Create an Excel sheet, similar to the one below, that clearly outlines the process.


If you want this template, you can get it by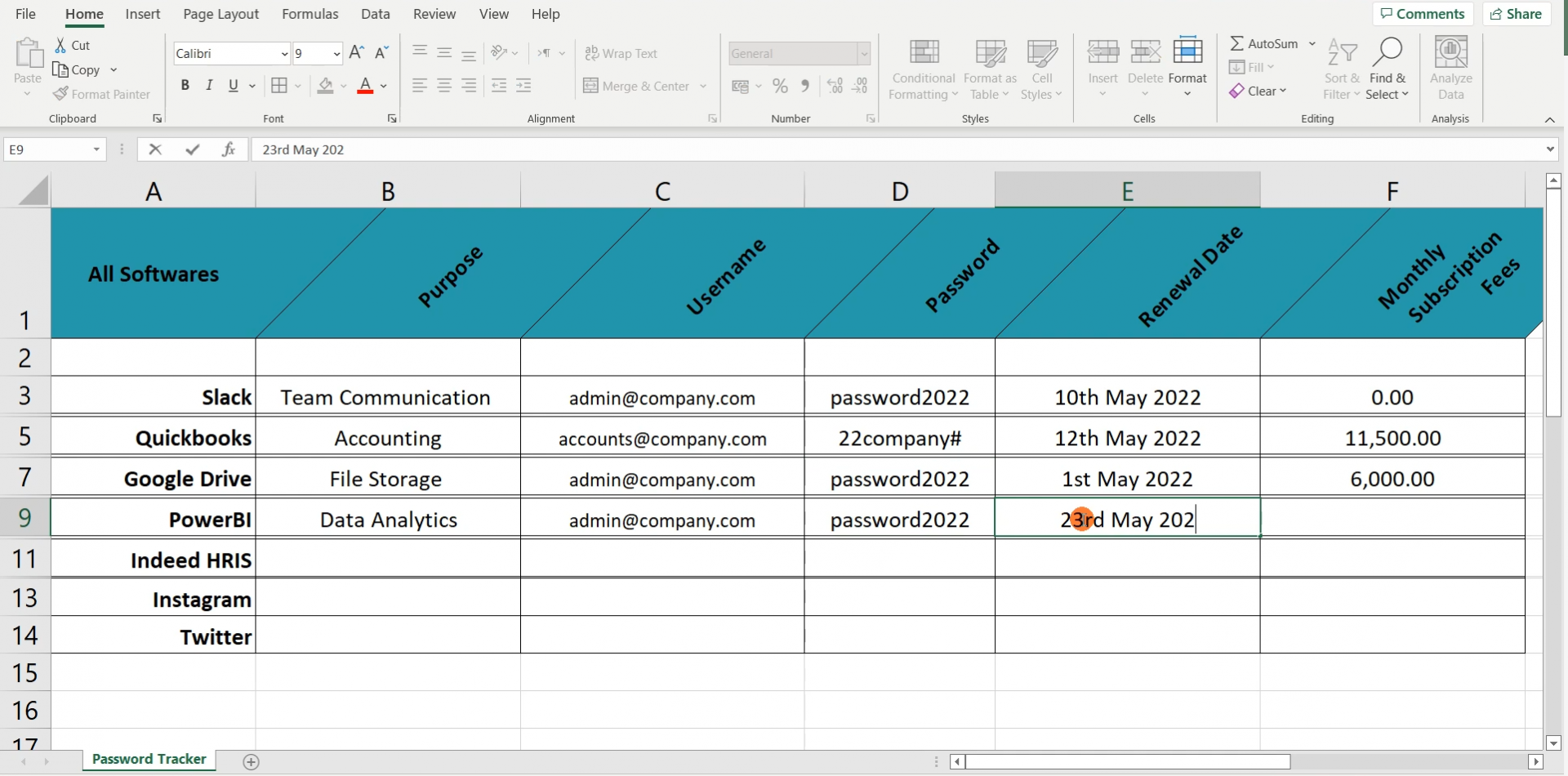 However, if you want to easily implement this process to manage and track your business software, the steps are outlined below.
1. Plan and Design a Sheet in Excel
The first step in planning your business processes is to document them, which is why you'll need Excel to keep track of all your software and other details about it.

Take note of the following processes when designing your Excel sheet for your Software Tracker:
Make a new sheet in Excel and save the file. If you want, you can use My Business Software Tracker.

Make six columns and rows for all of your software.

Make your sheet however you want.
2. Give Titles to Each Column in the Excel Sheet
You'll need to title your columns after you've created, named, and designed the Excel sheet.

All of your software is listed in the first column.
The purpose of the software is described in the second column.
The username for each software is listed in the third column.
The passwords are listed in the fourth.
The fifth column shows the software's renewal date.
The last column shows the subscription cost for each software.
3. Filling up Your Excel Sheet
Now that you've created a template for your business software tracker, all that's left to do is fill it in with the appropriate information for each column.

So, here's how it works:
Under the first column, list all of the applications you use.

In the second column, write down the functions of all the software.

Fill in the usernames for each software in the third column.

The password for each software is kept in the fourth column.

Put the monthly renewal date for all software in the fifth column.

The monthly subscription fee for each software is listed in the last column.
4. Saving up your File

You're done once you've completed your sheet. Yes, your software has a documented procedure. However, you must first save your file.
As a result, save the Excel Sheet and make it easily accessible for future updates and reviews.

Following these steps will ensure that your company has a proper software management and tracking process in place, resulting in effective data management.

Having a documented process for your software is extremely beneficial. Because we use so many applications to run our business, we frequently forget passwords and even usernames.
Also, because some of these applications are managed by other employees, it is critical to protect company data by implementing this technique across all of your software. This Business Software Tracker helps you identify the software utilized in each department of your company and who has access to it among your employees.

Remember, you can get the template here

Do you want to know more?

Enroll in our Hybrid Business Process Re-engineering Course to analyze your business operations and structure them efficiently if you need help identifying and improving some of your business processes that need to be fixed. To register for the course, go

You should also download our Financial Goal Setting E-book to learn more ways to make revenue for your business.

Created with