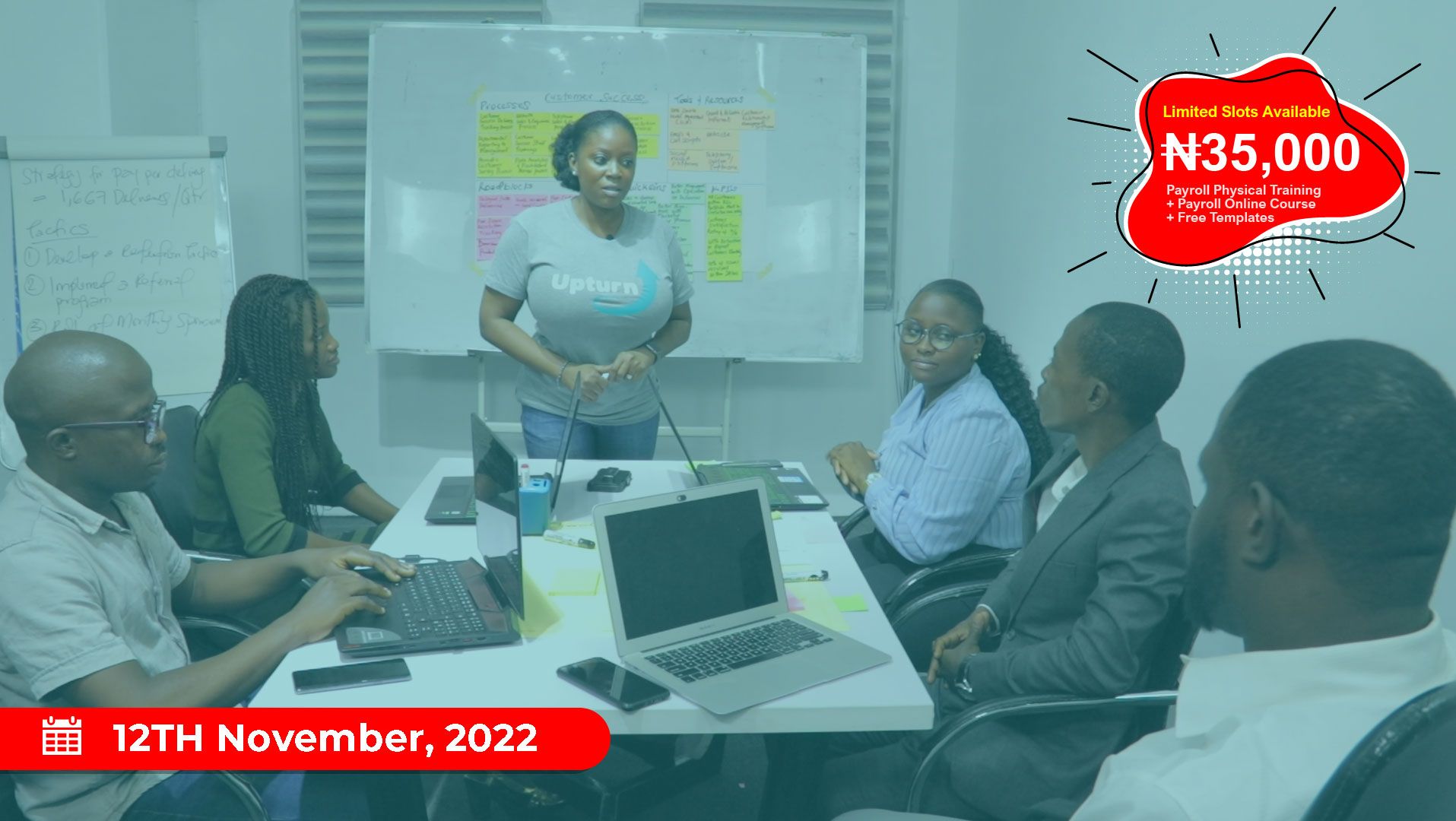 Understanding and Creating Your Payroll From Scratch | Physical Training
Enrolment: N35,000

Level: Beginner - Advanced

Extras: Free Template
Understanding Payroll Computation is easier than you think… We know because we've cracked it! Come, let's cut soap for you!
Learn the skills. Master the tools. Boost your confidence. WE FEEL YOUR PAIN…
We know the headaches you've had with computing your payroll month in and month out. We understand the struggle with deductions and percentages and formulas and more formulas...
We know how tedious it can be when you're trying to prepare the payroll after someone has taken a loan, or you have to add leave allowance, or there's one addition, deduction or the other to be made at the end of the month before salaries are paid.
But it doesn't have to be a headache. There is a method to all the madness, and we can show you how – with one class.
WITH OUR TRAINING, YOU HAVE A LOT TO GAIN
15 minutes! That's all it's going to take to do your own payroll. We guarantee it. Once you have learned all we have to teach you, it'll only take 15 minutes to implement and compute your own payroll. Sounding far-fetched? Well, all you have to do is see for yourself.
Our Payroll Training is the ultimate game-changer that transforms payroll pain to payroll prowess. Get ready! Clear your calendars and prepare yourself to understand and create your own payroll from scratch! And with all the templates and resources the training is going to come with, you can be rest assured that you'll leave our venue such a master at payroll. Beats chest…
And you best believe we'll break it down too! We are not about to jampack you with an overflowing syllabus or stuff you with information overload. Over here at Upturn, we are process-driven and believe in step-by-step learning. So, while it is a one-day training, you will still understand it in bits and pieces until you get the whole picture – and in record time too. Like we said earlier, there is a method, and once you get the key, all the doors will be unlocked.
READY TO BEGIN?
So, what are you waiting for? Would you like to understand payroll in its entirety and be able to create your own payroll from scratch?
Then sign up and register for our Payroll Onsite Training at
256, Herbert Macaulay Way, Alagomeji, Yaba, Lagos,
to understand payroll computation and create yours for only…
Ah, I'll tell you that later. For now, why don't you scroll further to see what you'll get?
BENEFITS OF OUR TRAINING…
Here's what's in it for you:
Value 1: N15,000
The most comprehensive Payroll Excel template you'll ever get, with a Monthly Payroll Calculator, PAYE Tax Calculator, and even a Pay Slip generator!
Value 2: N3,000
A summarised, go-to Payroll e-book
Value 3: N2,000
An e-book that teaches you how to file statutory deductions!
Value 4: N20,000
Actual e-copies of Payroll-related Acts and legal documents, as well as website links with a reference table to help you find them online!
Value 5: N50,000
BONUS: Our sought-after online Payroll course with over 50 Video lessons on each column in the payroll sheet!
Value 6: Priceless!
Plus, a certificate at the end of it all!
Sounds too good to be true? Well, it's not, I guarantee you. With this training, you get EVERYTHING, and I mean, everything, that you need to understand and create your payroll from scratch. We are leaving nothing out.
HERE'S WHERE YOU COME IN…
The total price of each value and benefit we listed above is at N90,000 (we didn't even add our priceless certificate). But because we hate to see business owners or their staff in pain, we've decided to offer this training at N35,000 only.
35k value option (course + onsite class)
If you attend the training, you are automatically entitled to receiving the online Payroll course after the class. For both, your fee is N35,000. You get all the templates and resources as well.
Pay directly into our bank account via
SME Upturn Place
GTBank 0465 689 942
25k value option (course only)
You can choose to skip the class and go with the online course alone instead. Should you opt for this option, your fee would be N25,000. And no, before you ask, there is no way to pay N10,000 for the class alone and skip the online course.
Pay directly into our bank account via
SME Upturn Place
GTBank 0465 689 942
Need a Custom Payroll Plan?
Would you like us to provide a more comprehensive payroll solution for you or your company in order to hasten the digital transformation process, increase business productivity, and boost employee retention?

Tell us about the difficulties you're having with payroll computation so we can help improve your experiences.

We appreciate you and want to hear from you.
IN ONE CLASS, YOU WILL LEARN…
How to break down Negotiated Gross salary into BHT and other allowances
How to calculate Negotiated Net salary
How to calculate Gross Income (for calculating Consolidated Relief Allowance)
How to calculate
P.A.Y.E Tax
How to calculate Consolidated Relief Allowance
How to use the Monthly Payroll Calculator to effect employees' overtime, 13th-month salary, Bonuses/Commissions, Unpaid leave, Loan refunds, etc.
How to calculate Leave allowance
How to calculate Employee and Employer Pension
How to calculate HMO (Health Insurance)
How to calculate Chargeable Income
How to calculate National Housing Fund (NHF)
How to calculate Industrial Training Fund (ITF)
How to calculate Nigerian Social Insurance Trust Fund (NSITF)
How to calculate Group Life Insurance
How to calculate Total Cost to Employer
AT THE END OF THE TRAINING, YOU SHOULD BE ABLE TO
Break down your payroll into direct and indirect compensation.
Calculate your P.A.Y.E taxes from scratch
Understand the various regulations that influence core calculations around taxes, pension, ITF, NSITF, NHF, etc
Use the monthly payroll calculator that takes into account matters such as prorated salaries, leave payment, bonuses, loans, expense refunds and the likes that affect your payroll monthly
THIS TRAINING IS FOR YOU IF…
You want your payroll problems to disappear. You're tired of messy Excel sheets or too-technical software. You're tired of an increased blood pressure anytime the month is coming to an end.
You want to learn how to use our sheet with the formulas in it without really bothering with the technicalities. For this set of people, a brief but comprehensive explanation on each column and how to use the sheet will be given.
You want a course that explains how to do payroll calculations from scratch. Have no worries; there are learning steps where we show you every single calculation we will derive in Excel, and if you keep an open mind, we guarantee that you will pick up some really cool Excel skills.
You want a course that explains how to do payroll calculations from scratch. Have no worries; there are learning steps where we show you every single calculation we will derive in Excel, and if you keep an open mind, we guarantee that you will pick up some really cool Excel skills.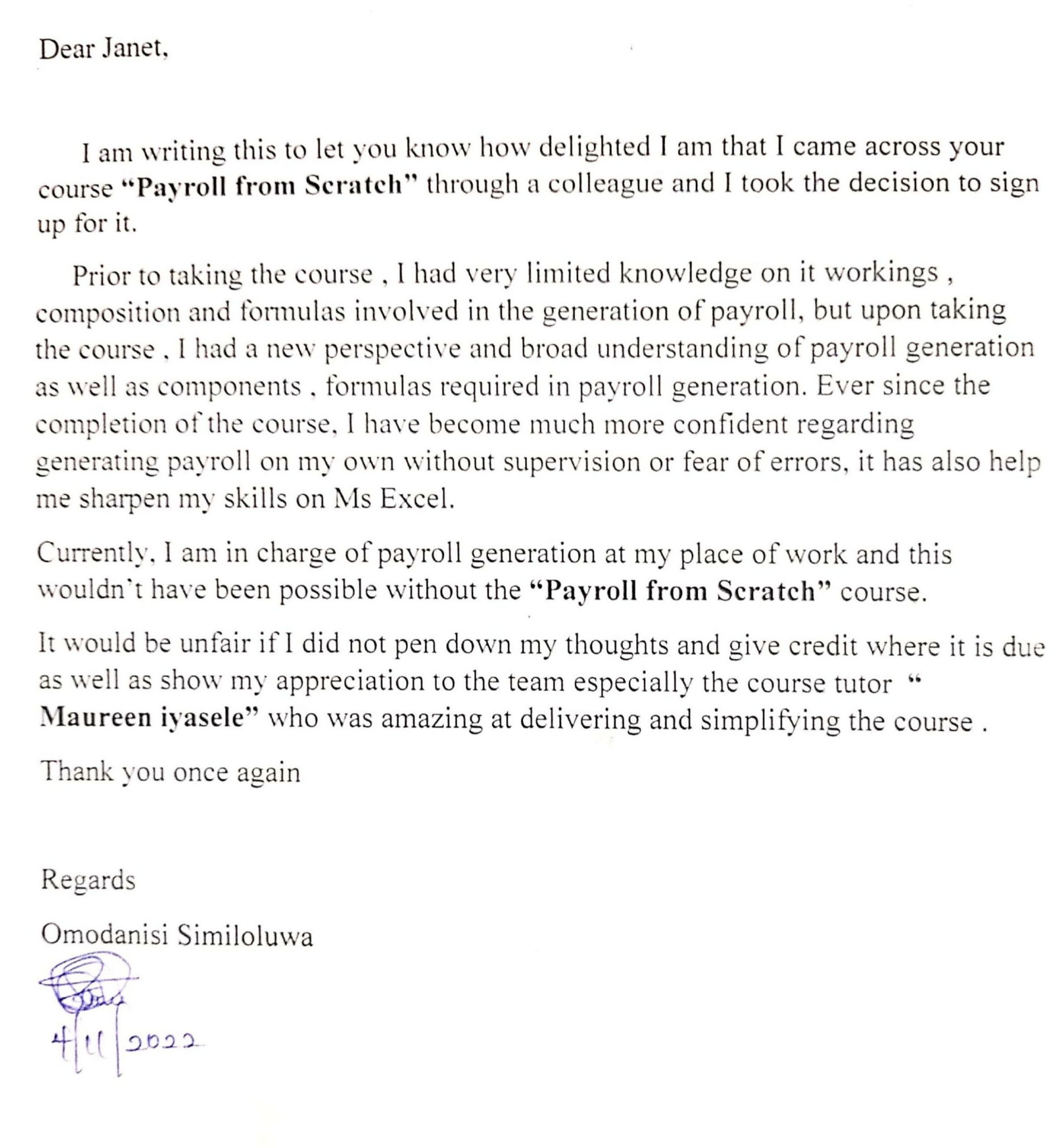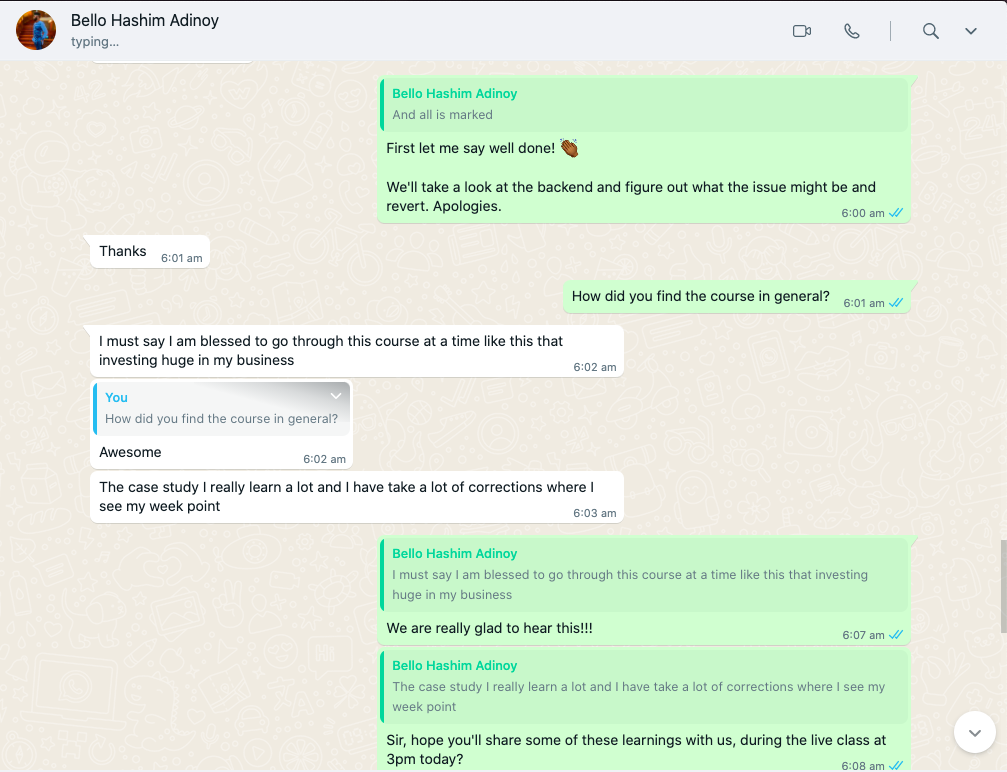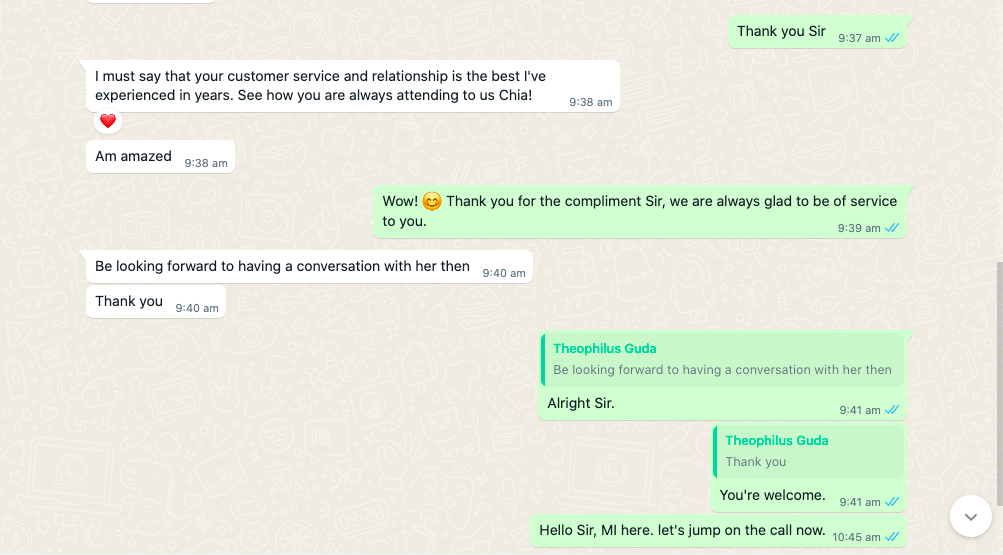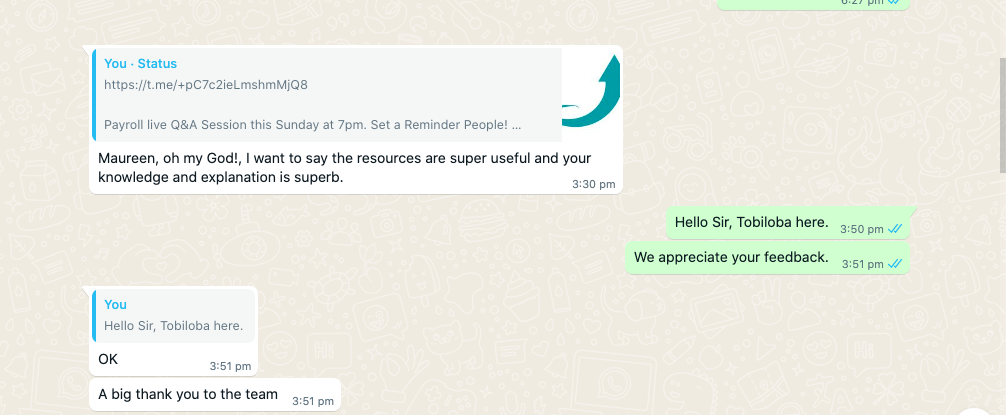 Frequently asked questions
How many hours will the training take?
The onsite training is slated to last for 3 hours, with a 30-minute break in between. Of course, this timeline could be extended depending on the length of the Q&A session afterward.
Yes, the entire training will be recorded.
Venue of the training is at 256, Herbert Macaulay way, Alagomeji, Yaba.
Can I attend the class virtually?
Unfortunately, this particular training is purely physical. We will let you know if there is ever a live Payroll class.
Can I pay for the recorded class?
No. However, snippets of the recording will be available on all our social media platforms and communication channels.
When will be next training be organised?
We will definitely reach out with a message on the next Payroll training.
What happens if I pay, and I am unable to attend?
You will receive a recording of the entire class, and online course as well. You will also receive all the templates and resources as promised.
MEET YOUR PAYROLL EXPERT
Maureen Iyasele
Maureen Iyasele is the subject matter expert for this training, with over 12 years of experience as a business owner, HR consultant, and executive. She is the 'baddest' payroll expert you'll ever meet, and she'll be your facilitator for the duration of the training.


With her guidance, your understanding of payroll computation in Nigeria should be swift and seamless.
Created with